Backlinks Fast? Your comments on the html version of my "Backlinks Fast" edition of Marlon's Marketing Minute. Let me hear if YOU like this format!
t ,
Marlon's Marketing Minute
Overview of this week's issue
Hello,
Who needs links to your websites or blogs, what will they do for you, should you get them and will they make you more sales and when?
Check this out.  It's a blog I put up last week and it's ranked on page 2 under a competitive keyword but it has NO CONTENT at all yet: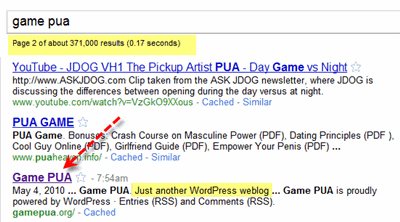 Read today's article for more details.
At the bottom of this issue is a special message from S. Mouse.  You'll want to be sure to read it.
Let me know if you like this html issue or not.
PS:  If you need support of any kind do NOT email.  Go to: http://www.getyoursupport.com

Grab Backlinks Jackpot this weekend only for a BIG discount and discover all the basics of seo in only a few hours!
time_stamp
You might think it's weird I'm talking about freaking Google and seo.  You and I both know that the best traffic hands down comes from your affiliate program.  However, since my old pal Terry Dean is now getting the bulk of his traffic from seo, he's convinced me that if you're willing to attack it for six months, it's a big source of traffic.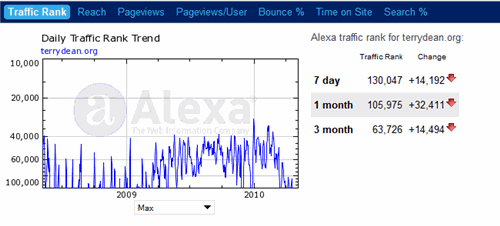 Finding GOOD, down-to-earth info on seo is harder than chomping on nails.  In doing massive, intense research for my new, upcoming Traffic Dashboard, I ran across this little gem of a product and bought resale rights to it: Special price ends Sunday night
By the end of the weekend, you can have a practical seo plan that works.  But be sure to read today's article for insights and nuances.

Who Needs Links To Your Websites or Blogs, What Will They Do For You, Should You Get Them, How Do Get Them and Will They Make You Sales and When?

I'm going to cover some key issues about search engine optimization quickly but with enough "meat" that you'll be glad you read this article.
1.  What are backlinks?
Backlinks are simply links to your web page, blog, Hub Page, Squidoo lens or whatever other page you're trying to get ranked in the search engines.
2.  Are they important?
Google ranks sites largely based on the flow of trust created by backlinks.
A NEW development is that Facebook is trying to circumvent the ranking of the web with their brand new "like" button. This is a threat to Google's long term success.  But it's in very early stages.
For now, having content on your web site and links to it is how you get ranked.
If you've missed my last few issues, go to marlonsnews.com and read them.  I've really covered a lot of great info on seo and backlinks.
3.  Does "backlinking" really freaking work?  Is it worth the trouble?
Here's the thing:  Getting ranked in Google is basically a competition among other web sites that also want to be on that first page for the keyword term.
There are several methods of competition:
a.  Identify keywords with decent searches but very low competition.
A very quick gauge of competition is typing your phrase in Google in quotes like this:  "most handsome guy in the world". A better method is the "in anchor" method but for right now I'll just teach you the quoted results method.
You'll get something like 20,000 results.  I'm on some weird Google beta search results thing (probably from doing TOO many searches doing research for Traffic Dashboard).  So you may get a different number.
In any event, what that means is 20,000 pages or however many you see have this exact term on them: most handsome guy in the world.
It does NOT mean people search in quotes. That's a total
misunderstanding.
Now, you type in Google:  mosthandsomeguyintheworld.com you'll see that my Facebook comes up.  Because I really AM the most handsome guy in the world.  Google just doesn't think so….. YET!
Gary Halbert USED to be the most handsome guy in the world… at least in his own mind. So now I am.
🙂
The problem with identifying keywords with low competition is it's time consuming.  That's why you want to use: Keyword Research Tool I Recommend
I JUST did a webinar with James last week on this tool that is almost all content and killer:
I highly recommend watching it.
That would be an affiliate link for MicroNiche Finder that boils it all down to little green dots.  Just look for the green dots and you got yourself decent keywords.
b.  Outsmarting the other guy or gal
There are many shades of this. But it basically comes down to being better informed about seo methods than the next person, which comes down to reading and watching videos, buying courses and doing your research.
c.  Being better at outsourcing
If you're better at outsourcing than others, you'll win the Game over time.
It's no secret that John's course on outsourcing rocks at:  http://www.outsourceplan.com
d.  Consistency
This is mostly the Terry Dean method. Terry pumps out 3 articles a week like clockwork and puts them on his blog.  Over a period of six months IF you do good keyword research, get backlinks and have your blog set up right, that works.
4.  How fast are the results?
You CAN get ranked really fast for keywords.  But probably for very low competition keywords. But if you specialize and get good you can do better.
The most productive way to look at this is as a Game you play  on your blog or blogs over six months or a year, although you should be seeing results and getting some rankings as you go along.
But check this out.  I put up this blog LAST WEEK and it has NO content yet: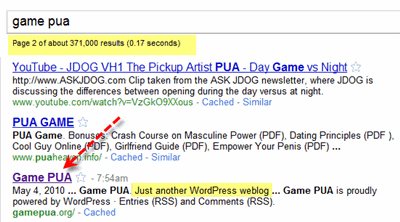 I haven't even done a linking campaign to it yet.  You'll notice there are 371,00 broad competitors in Google.
There are 31,100 inbound anchor text links using this phrase and 34,200 quoted results!
If you go to http://www.gamepua.org you'll see it's the DEFAULT blog. No articles or content at all.
Wanna know how I got this blog to rank SO darned fast without even any CONTENT on the blog?  Hey, I'm going to reveal all in the upcoming Traffic Dashboard.
5.  Why am I talking about seo and what's my take on it?
I HATE things that aren't evergreen.  I hate trading time for dollars.
But here's the thing:
a.  You're probably going to have a blog ANYWAY.
Why not do proper seo on it since you have one or more anyway.
b.  Why not put articles on your blog?
If you read my Ockham's Razor ebook, you KNOW the role an ezine plays  or can play. Or the role that sending content to your list plays.
Why not take that content, do seo on it and put it on your blog?
The other thing you'll need to do are some article directory submissions, and other things to develop backlinks.  Unfortunately, no matter how great your content, those backlinks won't happen by themselves for the most part.
But you can have articles written for $4 to $6 each.  And you can participate in blog carnivals and do other things to get links to your blog or blogs.
Now,, I do NOT believe in building your whole business model around Google.  One change in how they rank sites can cause you to NOT pay your mortgage!
That's called being a street person WAY too fast, unless you  were smart enough to listen to me and build a list along the way.
Your list IS your life saver, your lifeblood, your parachute, your engine.
I said it in AmazingFormula back in 1999 or whatever the date was:  The Money Is In The List.
The thing I HATE about seo is it's complex to figure out.
Once you figure it out, it's not THAT complex. But at first it's daunting.
That's why in Traffic Dashboard, I'm going to do my best to eliminate about a year of the learning curve from hades.
In the big picture, if you can set up your blog right and
get the content onto it you're sending to your list anyway, seo becomes integrated into your business without a huge hassle or ordeal.
And it becomes another traffic leg that over time can add
up and be a very important part of your business.
If you focus on content which in my model you do, and if you use whitehat linking methods, you'll build up something  that has a good chance of lasting a long time.
SPECIAL offer from S. Mouse gives you savings on many of my products until Monday: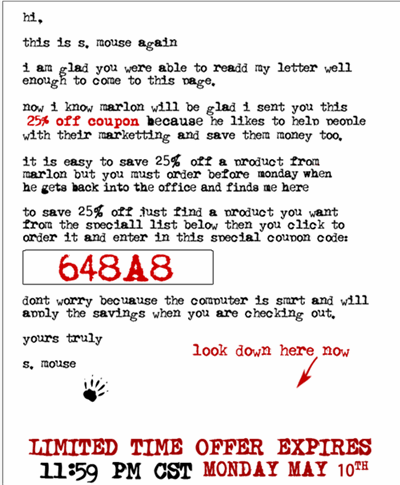 In 1978 this ad changed my life. But what is "the thing"
that caused me to buy it? What about the other ads I show?
What secret allowed me to get paid 70,000+ times for info products?
Click here to see it.
About the Author
Author of "The Amazing Formula That Sells Like Crazy", creator of the original Push Button Letters software, creator of the genre of "Dashboard" info products. Speaker in 120 seminars around the wordl.